CAIRO - Turkish Foreign Minister Mevlut Cavusoglu visited Cairo on Saturday to push to restore full diplomatic relations between the two countries despite Ankara's ongoing support for the Muslim Brotherhood group.
During a joint news conference with Egyptian Foreign Minister Sameh Shoukry, Cavusoglu said that Turkey was 'using its influence to extend a Black Sea grain deal permitting the export of grain from Ukraine' in its role as mediator between Moscow and Kyiv.
The fact that Shoukry and Cavusoglu held a joint news conference indicates a sea change between the two countries after almost 10 years of mutual recriminations and frazzled relations that followed the ouster from power of the Muslim Brotherhood and former Egyptian President Mohamed Morsi.
Both diplomats hinted that full diplomatic relations will be restored soon amid a general thaw of hostilities throughout the Middle East following the recent agreement between Iran and Saudi Arabia to resume diplomatic ties severed in 2016.
One of the key points Cavusoglu stressed to journalists in Cairo was the dangerous ramifications of the Russia-Ukraine conflict and the need to avoid a more serious - potentially nuclear - conflict. He said that Ankara has pushed to gain Russia's agreement on renewing a Black Sea grain deal that allows Ukraine to export grain to various Middle Eastern and Third World countries, including Egypt.
Cavusoglu said that while Ankara is hosting talks over the situation at Ukraine's Zaporizhzhia nuclear power plant, it also is making an effort with Russia to permit the extension of the grain sale agreement.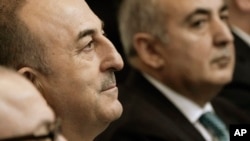 Turkish Foreign Minister Mevlut Cavusoglu listens to his Egyptian counterpart during their meeting at Tahrir Palace in Cairo on March 18, 2023.
Russia's ambassador to the United Nations has said that Moscow agreed to extending the agreement for two months, rather than the 120 days that was requested.
Egyptian political sociologist Said Sadek told VOA there is a move afoot in the Middle East to ease tensions that have been brewing between regional states - such as Egypt and Turkey - and that Turkish President Recep Tayyip Erdogan is especially eager to demonstrate his ability to bridge the gap between hostile states, both regionally and internationally.
'Turkey wants to say that 'I am an important card in regional and international political affairs, and I play a very important strategic role in mediating between the East and the West. Despite the fact that I'm a member of NATO, I can also speak to [Russian President Vladimir] Putin when many Western leaders cannot today speak directly to Putin.''
Paul Sullivan, a Washington-based Middle East analyst on the Atlantic Council, told VOA that an extension of the Black Sea grain agreement is a major relief for Egypt, because 'the Russian war on Ukraine has caused great shocks to food, energy and other markets.'
'Egypt's runaway inflation can be traced back to the war, [creating] a huge burden for Egyptians,' he said. 'Even the mothers and dads in neighborhoods in the countryside [understand] how the war has made their lives more difficult.'
Egypt buys much of its grain and sunflower oil from Ukraine and is the world's largest wheat importer, ahead of even China.
'Keeping the Black Sea deal going,' he argued, 'is important for the health and well-being of all Egyptians ... [who] have had enough shocks lately [and] need a break from food prices and food insecurity.'
Egyptian Foreign Minister Sameh Shoukry, second right, meets with his Turkish counterpart Mevlut Cavusoglu, third left, and his delegations at Tahrir Palace in Cairo, March 18, 2023.
Egyptian Member of Parliament Mustafa Bakri told Saudi-owned al Arabiya TV that restoring normal relations with Turkey is important for several strategic reasons, including 'using Turkey's good relations with Ethiopia to ease tensions over the Renaissance Dam,' which has caused consternation in Egypt because of its potential to disrupt the flow of water on the Nile.
Latent tensions between Cairo and Ankara over who controls parts of Libya and undersea natural gas resources in the eastern Mediterranean also have made relations between the two countries acrimonious, and improved relations between the two countries could avoid potential conflict in those areas, as well.