Washington - China and the United States are putting a new focus on diplomacy in Central Asia, a region where Moscow's long-dominant position has been diminished by its troubled invasion of Ukraine and resulting sanctions by G-7 nations.
Beijing pledged nearly $4 billion in investment during a China-Central Asia summit last month as a sign of its continuing interest in building trade and security ties with Kazakhstan, Uzbekistan, Kyrgyzstan, Tajikistan and Turkmenistan.
Days later, the United States promoted its engagement with these nations at an annual event in Washington, the Trans-Caspian Forum covering Central Asia, Caucasus and Turkey.
Nicholas Berliner, senior director for Russia and Central Asia at the National Security Council in the White House, told the gathering that the U.S. remains 'a consistent advocate for the independence, sovereignty, and territorial integrity' of the states that emerged from the breakup of the Soviet Union in 1991.
'Principles matter. And [there is] no time in the last 30 years that these principles have been more directly under threat than today in Ukraine,' Berliner stressed. The Russian invasion has led to economic disruptions and undermined regional security, he said, vowing that the U.S. is steadfast in connecting Central Asian countries to global markets.
America wants the region to uphold the rule of law, respect human rights, and allow free media, according to Berliner. 'We support the reform agendas underway, which aim to create more accountable democratic governance, including in Kazakhstan and Uzbekistan, and we are prepared to assist with the implementation of these reforms.'
Talks on energy supplies
Russia's oil exports this year returned to their pre-war levels, buoyed by massive purchases from India and China. But analysts believe the country's gas sector, which lost its biggest European customers after the invasion, may export just half as much gas as the year before.
That has increased the importance of Central Asia's energy-exporting nations, which are looking for new markets.
'Russia will never again be considered a reliable supplier of energy,' Deputy Assistant Secretary of State for Energy Diplomacy Laura Lochman told the forum. She also said Washington is ready to help the region diversify its gas and oil sectors and accelerate the transition to clean sources.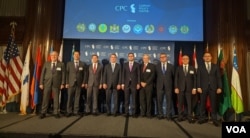 Participants attend the annual Trans-Caspian Forum hosted by the Caspian Policy Center in Washington with Central Asia, Caucasus, and Turkey ambassadors and top U.S. officials on the region, May 25, 2023. (Navbahor Imamova/VOA)
On May 25, Pennsylvania-based Air Products signed a $1 billion investment agreement with Uzbekistan to own and operate a natural gas processing facility in Kashkadarya. The corporation says it plans to deploy its technological and operational knowledge to help deliver highly reliable and efficient energy.
Furqat Sidiqov, Uzbekistan's ambassador to Washington, said his government appreciates the investments and sees more opportunities.
'We want to be partners in technological innovation and digital commerce,' said Sidiqov, listing food, textile, education, health care and climate change as potential joint project areas.
Focus on development, civil society
Some remain skeptical that Washington will be able to do much to change regional countries' basic relations with Russia and China because of their proximity and the size of their economies.
Sebastien Peyrouse, Central Asia program director at George Washington University, thinks reducing Chinese and Russian influence is not feasible. 'It seems unrealistic that Central Asians will be able to significantly redirect economic exchanges towards other countries. India and Pakistan or even Iran and Turkey, despite increasing trade, cannot replace Russia and China.'
Instead, Peyrouse argued the U.S. should invest in areas that are desperate for outside expertise, such as health care, education, food security and energy. He said that dire situations in these areas 'are more likely to lead to destabilization than alleged external terrorist threats.'
Peyrouse believes such a contribution will improve America's image in Central Asia, 'which has seriously deteriorated since the U.S. withdrawal from Afghanistan.'
He also recommended that the Biden administration review how it provides assistance to local nongovernmental groups like human rights organizations, which are under pressure in the region.
'Under threats of being kicked out, many funders engage in self-censorship, downgrading their commitment to democratization and fighting repression and corruption,' he said.
This approach empowers authorities to coerce nongovernmental organizations, he said. They want donors to stop confining programs to sectors endorsed by the Central Asian administrations and follow agreements obligating them to create space and conditions for civil society.
It is essential that the U.S. address this problem, Peyrouse said, so the NGOs can work 'without fear of retaliation in key economic and social areas, which remain largely under the control of neo-patrimonial systems across the region.'
Responsive government
Kazakhstan, Uzbekistan, Tajikistan and Kyrgyzstan experienced unrest and mass violence last year. Their governments now claim to be focusing on public grievances, striving to ensure economic and social justice. Uzbek Ambassador Sidiqov said the Mirziyoyev administration is committed to its 'irreversible reforms towards good governance and liberal economy.'
Yerzhan Ashikbayev, Kazakhstan's ambassador to Washington, said his country 'has always been open to U.S. businesses as well as initiatives.' The Tokayev administration is transforming Kazakhstan, Ashikbayev contended, and he thanked Washington for its support.
Acting Deputy Assistant Secretary of State for Central Asia Brian Stimmler told the forum that the U.S. maintains a comprehensive dialogue with the region, including on civil society, law enforcement and counterterrorism.
'Our efforts to be a reliable partner include a perennial focus on human rights and the importance of political-economic reform,' he said. 'We continue to highlight the security and prosperity for Central Asian countries are inevitably tied in the long term to freedom and opportunity for the people of Central Asia.'
The U.S. approach to Central Asia is not about dictating but partnerships with fully sovereign states, the NSC's Berliner emphasized. 'And while we do not share a common border, we do share a common hope for a secure, prosperous, and independent region.'